Personal Capacity
Train clinical trial and support staff at IDI to conduct early phase clinical trials.
The project utilizes a variety of training approaches suitable for adult learning. Onsite and team-based training using a free bonus pills combination of didactic (workshop format and complemented by self-directed training), practical scenario training, work place assessments supported by ongoing mentoring.
A Professor In Residence Program will be used to attract academics from leading institutions to the institute to support various fields relevant to clinical research and IDI will draw on these relationships to harmonize training needs assessments forindividual skill groups.
Training Areas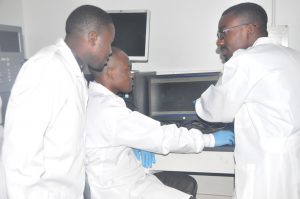 Infection Prevention and Control Training
Clinical pharmacology training
Clinical research training
Advanced Cardiac Life Support (ACLS)
Analytical chemistry
Post-graduate research support (Master's project based on an IPC theme at Makerere University)
Advanced training in Pharmaceutical medicine